Let's Make Skull Earring: Free Crochet Pattern Ideas for Halloween – When it comes to Halloween, crafting unique and spooky accessories adds an extra layer of fun to the festivities. One fantastic idea to elevate your Halloween style is to create skull earrings using crochet patterns.This creative and stylish accessory will surely catch the eyes of admirers and spark conversations wherever you go. So, gather your supplies and enjoy the process of crafting spook-tacular accessories that will turn heads and spark conversations during the Halloween season and beyond.
1. Sally Skulls Earrings free Crochet Pattern By Divine Debris
In this free pattern, we'll dive into the details of this captivating pattern, exploring the steps, materials, and creative possibilities it offers. Whether you're a seasoned crocheter or just starting, these earrings are a fantastic way to express your style and showcase your crafting skills.
2. Crochet Day of the Dead Sugar Skull Earrings By Spider Mambo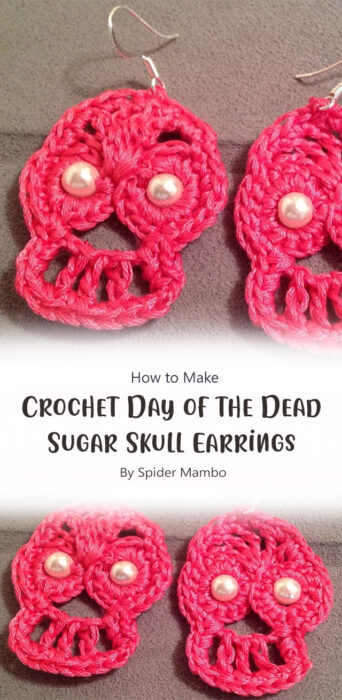 Unlock your inner artist with the Dead Sugar Skull Earrings By Spider Mambo. Craft, customize, and wear your creativity proudly. Get it Now:
3. Easy Pattern for Spooky Crochet Earrings By Andrea Crețu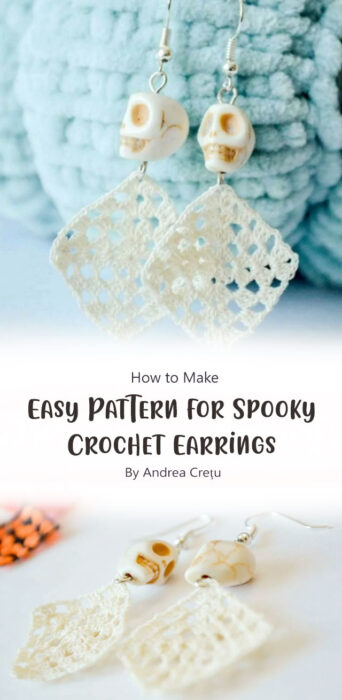 The Easy Pattern for Spooky Crochet Earrings by Andrea Crețu stands as a testament to the fusion of creativity and craftsmanship. Delve into this guide of creating bewitchingly beautiful crochet earrings that are sure to captivate both your imagination and your wardrobe.