Amigurumi Hulk Free Pattern & Tutorial Ideas: Unleash Your Inner Crochet Superhero – Are you ready to embark on a crocheting adventure that's as powerful as the Hulk? If you're a fan of both amigurumi and Marvel's green giant, you're in for a treat! In this article, we'll find free patterns and tutorials to create our very own crochet superhero. Get your crochet hooks ready because it's time to unleash your inner crochet superhero and bring the Hulk to life, stitch by stitch.
1. The Hulk Free Crochet Pattern By Jillian Hewitt
The Hulk free crochet pattern by Jillian Hewitt offers a fantastic opportunity to combine your crochet skills with your love for Marvel's incredible Hulk character. Craft your own mini Hulk amigurumi and bring a touch of superhero power to your crochet projects. To access the full pattern with detailed instructions, please visit Jillian Hewitt's website by click link bellow here. Enjoy crocheting your Hulk amigurumi!
2. Hulk Amigurumi Tutorial By Odinka Wisanindhi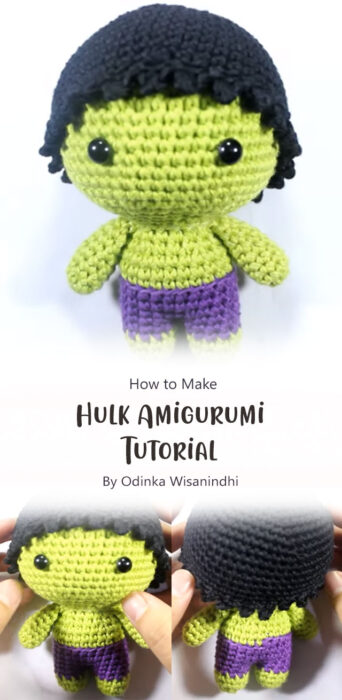 In this tutorial, Odinka will guide you through the exciting journey of creating your very own Hulk amigurumi. Whether you're an experienced crocheter or a beginner looking to embark on a creative adventure, this step-by-step guide will help you bring the mighty Hulk to life using yarn and a hook. Let's dive into the world of crafting and unleash your inner superhero!