4 Halloween Gnome Free Amigurumi Crochet Pattern Ideas – Halloween gnome amigurumis are small, stuffed creatures with a whimsical twist. These tiny beings combine the cuteness of gnomes with the spookiness of Halloween, making them perfect for seasonal decorations or gifts. With a bit of yarn, a crochet hook, and some creativity, you can bring these charming characters to life.
1. Gnome Witch Amigurumi – Free Halloween Crochet Pattern By StringyDingDing
This delightful amigurumi design brings together the whimsy of gnomes and the mystique of witches, resulting in a captivating creation that is bound to be the centerpiece of your Halloween decor. Let's dive into the enchanting world of crocheting and create this adorable Gnome Witch Amigurumi!
2. Crochet Witch Gnome – Free Pattern By Lindsey of windingroadcrochet. com
The Crochet Witch Gnome – Free Pattern By Lindsey of windingroadcrochet. com stands as a testament to the beauty of combining imagination and skill. This charming crochet project brings together the playfulness of gnomes and the enchantment of witches, resulting in an eye-catching Halloween decoration that's as fun to make as it is to display.
3. Crochet Witch Gnome Ornament – Free Pattern By Ashley Parker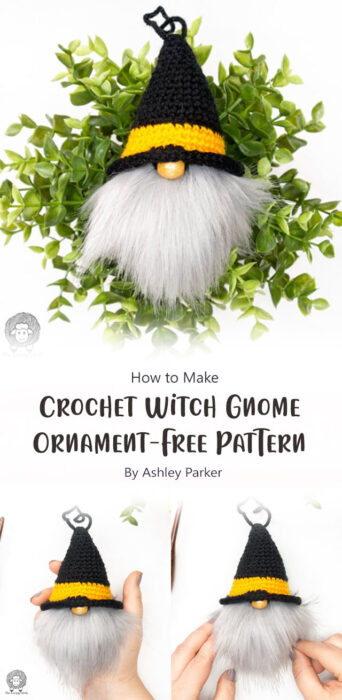 What better way to infuse your home with a dash of spooky charm than by creating your own Crochet Witch Gnome Ornaments? Ashley Parker's free pattern invites you to delve into the world of crafting magic. Whether you're a seasoned crocheter or just starting out, this DIY project promises an enchanting experience.
4. Halloween Witchy Gnome Free Crochet Pattern By Amy Ramnarine
If you're passionate about crocheting and love Halloween, this Witchy Gnome crochet pattern is tailor-made for you. With its amazing details and delightful design, the Witchy Gnome is an ideal addition to your Halloween-themed decorations. With the witchy gnome by your side, your Halloween season is sure to be filled with whimsy, warmth, and a dash of crafting magic. Happy crocheting, and may your gnome witch bring joy to all who behold its charm!