Easy Crochet Card Holder Free Pattern Ideas – Looking for an easy crochet project? This card holder is just right. This pattern is great for beginners, but will also save you the trouble of having to make one when it's time to give a gift. Once you make one for yourself, you will want to use them to hold your gift cards, credit cards and cash as well.
1. E-yo Crochet, Star Stitch Crochet Card Holder/Purse By 이요코바늘 E-yo crochet
Crochet card holder, this project makes a fashionable way to hold your IDs, credit cards and cash. It looks really pretty when you open it up, the perfect gift for the stylish young woman in your life.
2. Crochet Card Wallet/Holder Suzette Stitch By 아델코바늘 Adel Crochet
If you love to crochet, why not make a crochet card holder! It's fashionable and functional and will always keep you organized wherever you go. And if that wasn't enough, you can also use it as a change purse or small wallet.
3. Crochet Card Holder/Wallet By 하다코바늘 * HaDa Crochet
Keep your cards organized (credit and debit, store cards, gift cards, etc…) with this easy to do card holder that you can make yourself.
4. Simple Crocheted Card Holder By Erica of 5littlemonsters. com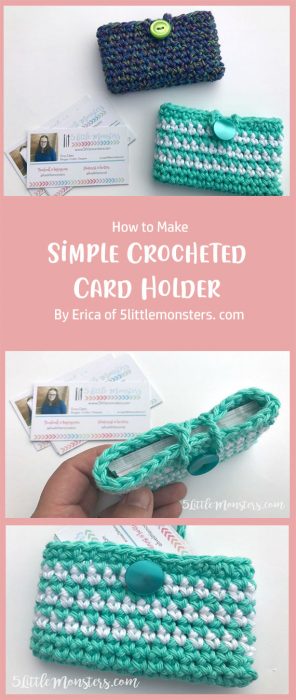 Crochet Card Holder will be your new favourite friend while you're sitting and crocheting.
5. K-Card Holder – Free Crochet Pattern By knotsosquare. com
Love to crochet? This pattern offers a unique way to display your favorite patterns by storing them on a "crochet card holder".