Stylish Sleeveless Women Vest Free Crochet Pattern Ideas – Are you ready to transform your wardrobe with chic and cozy additions? If you're a crochet enthusiast or someone eager to try their hand at crafting, we've got just the thing for you "Stylish Sleeveless Women Vest Free Crochet Pattern Ideas". Ever wondered how to add a touch of handmade elegance to your outfits? Well, we've gathered the trendiest vest patterns that not only showcase your crochet skills but also elevate your style. Intrigued? Let's dive into the world of crochet fashion!
1. Sutherland Waterfall Vest Crochet Pattern By Briana of brianakdesigns. com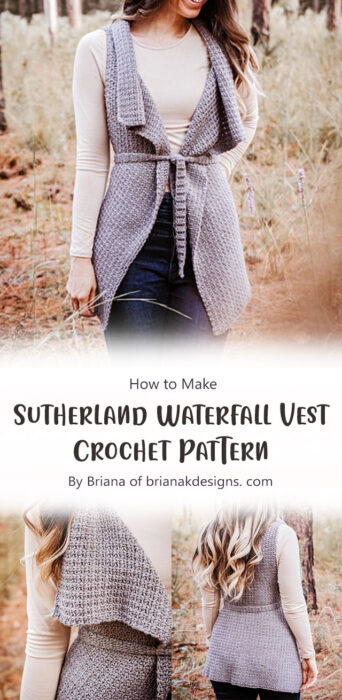 Imagine weaving a masterpiece that not only keeps you warm but also showcases your creativity. Briana, the talented creator behind brianakdesigns.com, brings you the enchanting Sutherland Waterfall Vest Crochet Pattern. Dive into the details of the pattern and discover what sets it apart from the rest.
2. The Crochet Summer Long Vest By Wan of KnitcroAddict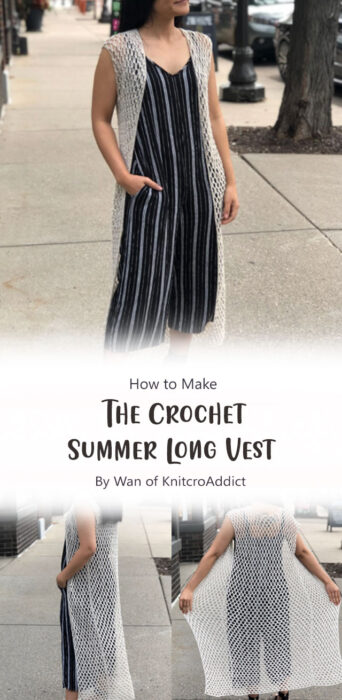 One trend that has captured the essence of summer fashion is the Crochet Summer Long Vest, a versatile piece that adds a touch of handmade elegance to any wardrobe. Wan of KnitcroAddict, a skilled artisan, meticulously creates each vest using high-quality yarn and unique design elements. The handmade touch adds a personal connection between the creator and the wearer. So, follow the step-by-step guide to create your own Crochet Summer Long Vest.
3. Sleeveless Crochet Vest By WILMA of wilmade. com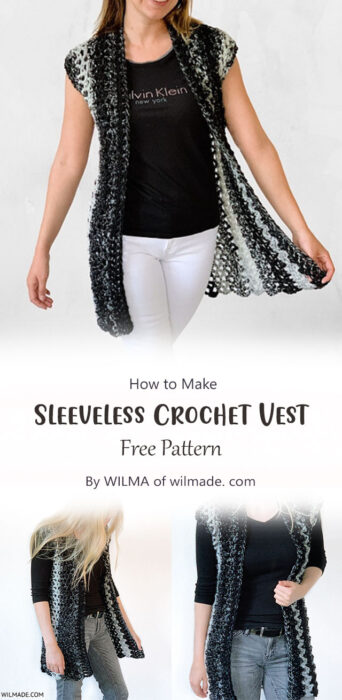 Crafted with precision and passion, the Sleeveless Crochet Vest by WILMA showcases the artistry embedded in every stitch. WILMA generously offers the pattern for the Sleeveless Crochet Vest for free. If you want to get the free pattern, get it now by click link bellow here:
4. "Tree Lined" Long Crochet Vest – Free Pattern By Jess of makeanddocrew. com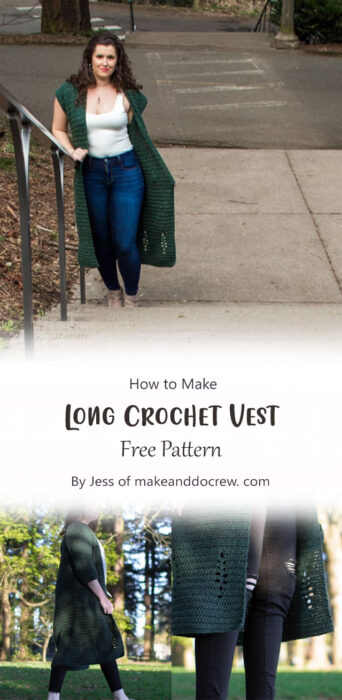 The "Tree Lined" Long Crochet Vest, with its thoughtful design, invites individuals to communicate their style and personality. It's not just about following a pattern, it's about weaving a narrative through yarn, creating a garment that resonates with the essence of the crafter.
5. Lynn Fringe Vest – Free Boho Crochet Sleeveless Duster Pattern By Toni Lipsey
Crafted with creativity and a touch of free-spirited charm, this sleeveless duster pattern by the talented Toni Lipsey is a testament to the fusion of style and comfort. With Toni Lipsey's expert guidance, you're not just following a pattern, you're crafting a boho masterpiece that reflects your style and personality. Enjoy the journey of bringing this unique vest to life, and let your creativity unfurl with every stitch. Happy crocheting!