Best V Neck Halter Top Free Crochet Pattern & Tutorial Ideas – The beauty of the V Neck Halter Top lies in its adaptability to various styles. With the right choice of yarn and color, it can be transformed into a beach cover-up, a bohemian festival outfit, or an elegant evening top. Now, let's explore some of the best free crochet patterns for V Neck Halter Tops. Each pattern comes with detailed instructions and is perfect for both experienced crocheters and beginners.
1. Deep V Neck Halter Top-Tutorial DIY By TCDDIY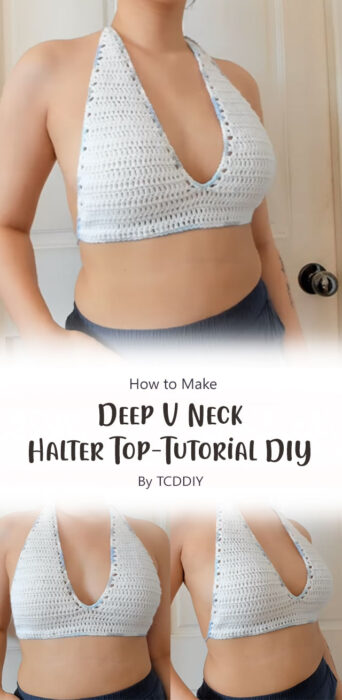 In this easy DIY tutorial, TCDDIY will guide you through the step-by-step process of creating your very own Deep V-Neck Halter Top. So, grab your sewing kit and let's get started on this fabulous fashion project!
2. Simple V Neck Halter Top Free Pattern By grace and crochet
In this article, "grace and crochet" will guide you with step-by-step on how to create a beautiful and stylish Simple V Neck Halter Top. This project is perfect for sewing enthusiasts who want to take their skills to the next level and create a trendy garment that is sure to turn heads. Happy sewing!