Pumpkin Pie Turtle & Pumpkin Turtle Free Amigurumi Pattern Ideas – Are you a fan of both cute amigurumi creations and the warm, cozy feeling of fall? If so, you're in for a treat – or should we say, a delightful double treat in the form of Pumpkin Pie Turtles and Pumpkin Turtles! These charming amigurumi patterns combine the adorable appeal of turtles with the seasonal spirit of pumpkins, making them perfect companions for autumn and beyond. In this article, we'll explore these wonderful crochet ideas, providing step-by-step guidance on how to create your very own Pumpkin Pie Turtle and Pumpkin Turtle amigurumi. Enjoy it!
1. Amigurumi Pumpkin Pie Turtle – Crochet Pattern By MELISSA of craftykittycrochet. com
Dive into the delightful blend of crocheting mastery and creative expression with MELISSA's Amigurumi Pumpkin Pie Turtle pattern. Visit craftykittycrochet.com to embark on a crafting journey like no other. Crochet, create, and cherish the whimsical charm of your own Pumpkin Pie Turtle!
2. Pumpernickel the Pumpkin Turtle Free Crochet Pattern By Julia of littleworldofwhimsy. com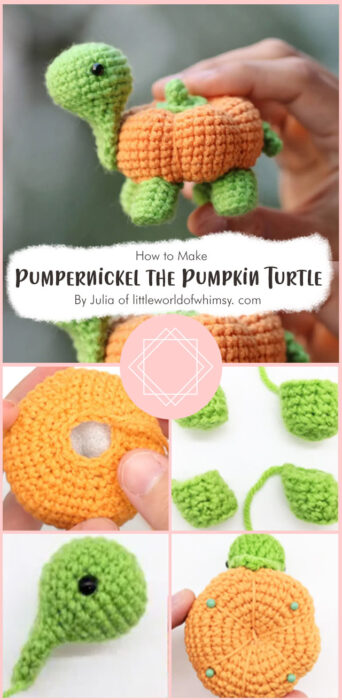 The free crochet pattern provided by Julia on LittleWorldOfWhimsy.com opens the door to a world of creativity and imagination. Whether you're a seasoned crocheter or just starting, this pattern invites you to embark on a journey of crafting, storytelling, and bringing a touch of whimsy into your life.