Little Chameleon Free Amigurumi Pattern Ideas (Part 2) – These charming crocheted or knitted stuffed animals make for delightful gifts, collectibles, and even home decor. In this article, we'll dive into the enchanting realm of amigurumi chameleons once again, with a new set of creative and adorable free patterns to try out. Whether you're a seasoned amigurumi artist or a beginner eager to start your crafting journey, these patterns allow you to bring your chameleon creations to life. So, gather your yarn, hooks, and imagination, and get ready to crochet your way into a world of chameleon charm!
1. Chameleon Crochet Pattern – Pascal Amigurumi By Sharon of Ami Amour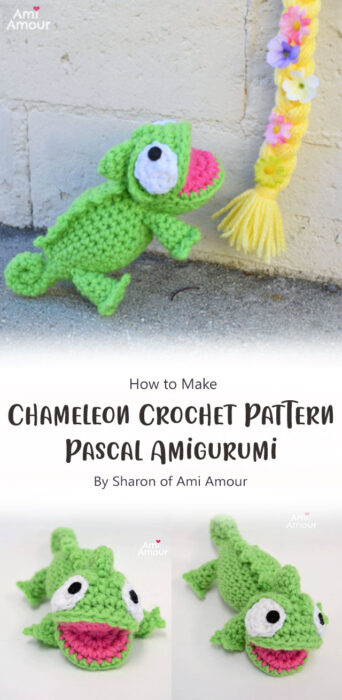 If you're an amigurumi enthusiast, you're in for a treat with the charming "Pascal the Chameleon" crochet pattern by Sharon, the talented creator behind Ami Amour. Experiment with shades to craft a Pascal that reflects your style and imagination. Let's make it!
2. Chameleon Amigurumi – Free Crochet Pattern By StringyDingDing
The Chameleon Amigurumi, a charming stuffed toy inspired by the elusive and captivating chameleon, comes to life through the creative hands of crocheters. This free crochet pattern by StringyDingDing enables crafters of all levels to embark on a delightful journey of creating their very own crocheted chameleon. With its vibrant colors and endearing features, this pattern promises an engaging and rewarding crafting experience.