Beautiful Sunflower Keychain Free Crochet Pattern and Tutorial Ideas – Sunflowers symbolize happiness, positivity, and warmth. Incorporating these vibrant flowers into your crochet projects can infuse a sense of joy into your surroundings. The Beautiful Sunflower Keychain serves as a delightful accessory that can be attached to your keys, bags, or even used as a decorative item. It's not just a keychain, it's a piece of art that radiates positivity wherever it goes. Let's delve into the world of crochet and create something extraordinary!
1. Sunflower Keychain Crochet Tutorial By Aneka rajut channel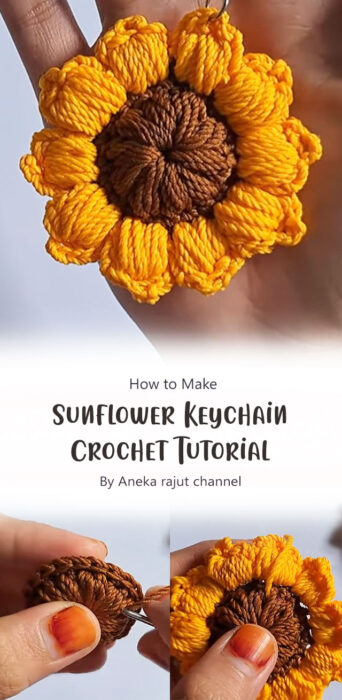 In this step-by-step tutorial, Aneka rajut channel will guide you through creating a stunning sunflower keychain using crochet techniques. Whether you're a beginner or an experienced crocheter, you'll find this tutorial enjoyable and easy to follow. So, grab your crochet hook and yarn, and let's dive into the world of sunflower keychain crafting!
2. How to Crochet Sunflower Keychain By Crochet with Mai
With the help of the Crochet with Mai video tutorial, you'll learn how to make an adorable sunflower keychain – perfect for adding a touch of sunshine to your keys, bags, or even as a heartfelt gift for a loved one. Let's get started!
3. Crochet Sunflower Pattern By Anitha of littleloveeveryday. com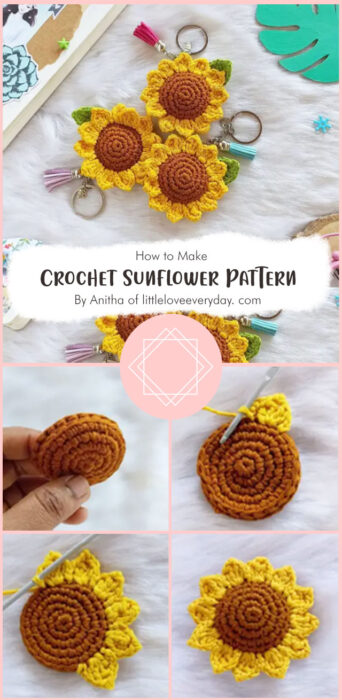 Creating your own sunflower keychain through crochet is a rewarding and delightful experience. The process allows you to combine your love for crafting with a touch of nature's beauty. So, pick up your crochet hook and start crafting your sunflower keychain today!
4. Keychain Crochet Sunflower By Isma Aulia
Discover the artistry of crafting a sunflower-themed keychain through Isma Aulia's captivating video tutorial. Unleash your creativity, learn crochet techniques, and infuse joy into your crafting journey. Hope you enjoy it!