6 Mug Cozy Closes Free Crochet Ideas – This free crochet patterns is designed to fit snugly around your coffee mugs. This project will be a quick and enjoyable crochet project for any crocheter willing to follow the pattern exactly. If you are looking for an easy crocheted project, this is the perfect pattern for you. Who's ready to have some fun?!
1. Crochet Granny Square Mug Cozy Tutorial By Melanie Ham
This tutorial is for a coffee mug cozy. The instructions are simple and easy to follow. Make this simple crochet granny square pattern using the pattern bellow here.
2. Quick And Easy Mug Cozy – Free Crochet Pattern By Amanda Saladin of love. life. yarn.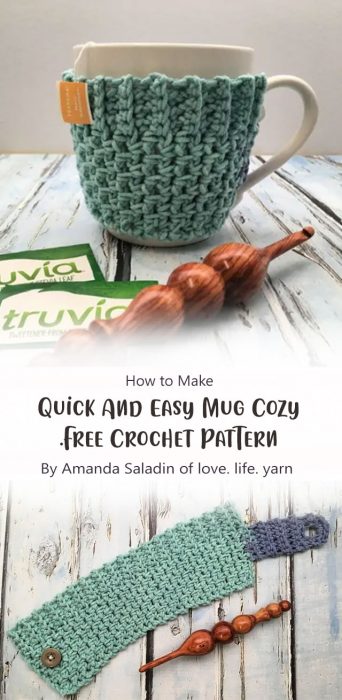 This is a quick and easy crochet pattern that works up in no time. Use this tutorial to make some cozies for your (or someones) favorite coffee mug and impress all your friends with your new crochet skills!
3. EOmbré Crochet Mug Cozy By Kathryn Senior of craftsy. com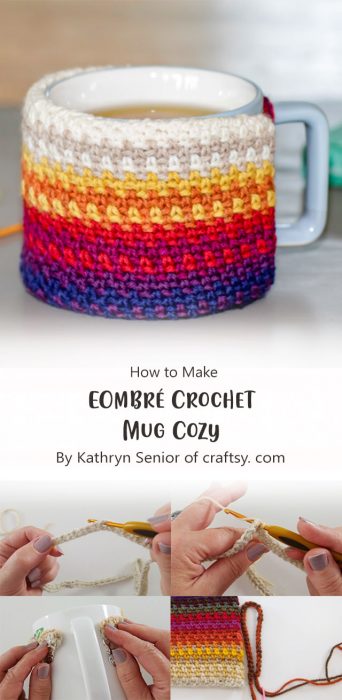 Whether you're a newbie or a pro, the EOmbré Crochet Mug Cozy is a great project you can make to brighten up your coffee, tea or hot cocoa. This free pattern from Kathryn Senior from craftsy.com shows how to make this simple tube-shaped cozy in an ombré color scheme of your choice!
4. Valentine's Day Mug Cozy By Rebecca of Yarn + Chai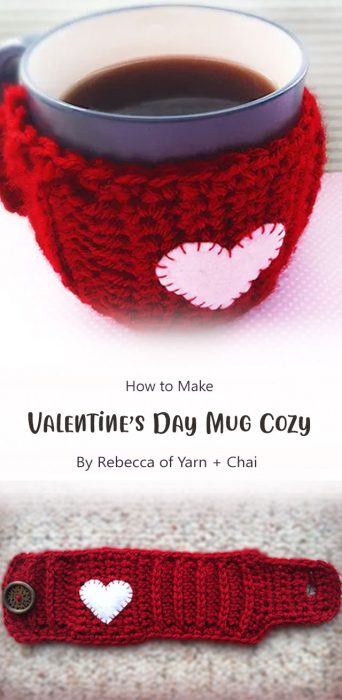 Strap on your Valentine's Day Mug Cozy like a hug around your favorite mug. Bright red or pink, cozy up to your next hot drink with ease. The Valentine's Day Mug Cozy is designed by Rebecca of Yarn + Chai.
5. Crochet Mug Cozy with Button By Kirsten Holloway Designs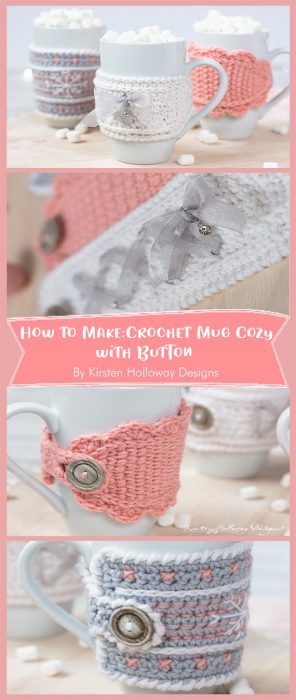 Crochet this mug cozy in your favorite team's color and add a button to personalize it. Perfect for cold drinks and hot chocolate in our colder weather. Come in and try the pattern!
6. Star Stitch Cup Cozy By Stephanie of All About Ami
Whether you are an experienced crocheter or choose to make a gift for a loved one, this star stitch cup cozy will be the perfect addition to any kitchen décor. It's easy enough for a beginner yet sturdy enough for a more advanced crocheter.