Lovely Macrame Magazine Rack Free Tutorial Ideas – Would you like a Beautiful Macrame Magazine Rack to place on your beside favorite chair or desk? With this easy to follow, step by step tutorial, you can make a lovely macrame magazine rack with decorative pieces of rope coupled with stylish knots. The best thing about making macrame is that you get the satisfaction of doing something yourself and adding an element of beauty and interest to any room.
1. DIY Macrame Magazine Rack By Made in May 메이드인메이
Learn how to macrame with this easy-to-follow, step-by-step instruction. This is a video tutorial that will help you create Macrame Magazine Rack / Newspaper Holder. So grab your thread, cutters, scissors and get ready to create your own masterpieces!
2. Macrame Wall Hanging Magazine Rack By Queen Hobby
Easy step by step instruction for building the popular MACRAME wall hanging magazine rack.
3. DIY Macrame Magazines Holder By GreysMade Macramé & DIY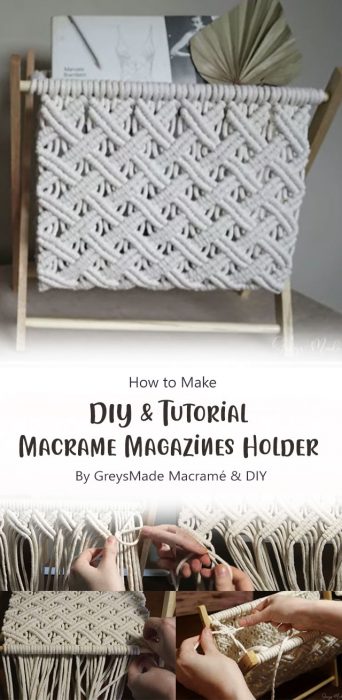 DIY Macrame Magazine Holder are artistic and decorative project. This macramé holder is perfect to hold magazines, journals or knitting books and looking greatCreate your own artistic magazine holder in this quick to follow step by step instruction! Just follow the easy instructions and watch your creative dreams come true.