Easy Donut Free Crochet Pattern Ideas – A quick, easy and free crochet pattern for donut. This pattern is suitable for any skill level. Don't wait and pick up your hooks, start crocheting!
1. Easy Funfetti Crochet Donuts Garland – Free Pattern By jenniferq. com
Now you can crochet your very own funfetti donuts with this easy pattern! This is can made in free time. It's easy, fun and very adorable on your DIY Christmas tree or every day decoration!
2. Crochet a Donut: Free Patterns for a Donut Coaster/Applique or 3D Donut By ameliamakes. com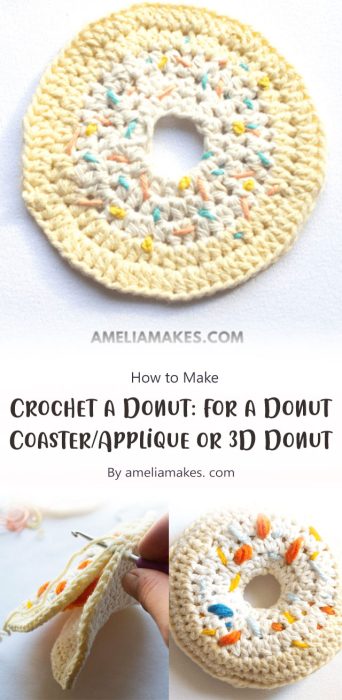 Crochet a Donut is a free crochet pattern that teaches you how to make the donut applique OR 3D donuts. The project itself is quick and easy to make, but it's also very fun.
3. Festive Donut Garland, Free Crochet Pattern + Video By fiberfluxblog. com
This Festive Donut Garland is a beautiful way to celebrate the most wonderful time of year! Grab this free crochet pattern and create a festive donut garland with your family.
4. Crochet Donuts By Sarah of repeat after me
Here is a free pattern for a crochet donut with step by step instruction. Have some fun and make an adorable crochet donut.