Pretty Corset Top Free Crochet Tutorial Ideas (Part 2) – Corset tops are a stylish and versatile piece of clothing that can be worn for a variety of occasions. This is the second part of Crochet Corset Top Tutorial Ideas that you can check it too. On this second part we'll find more about tutorial ideas with step-by-step guides that provide instructions on how to create different types of corset tops. These corset top tutorial ideas offer a fun and creative way to add a unique piece of clothing to your wardrobe. With a little bit of effort and creativity, anyone can create a stunning corset top that is sure to turn heads. Choose you favorite and let's make it now!
1. Spring Corset Top Tutorial By Harmony Jackson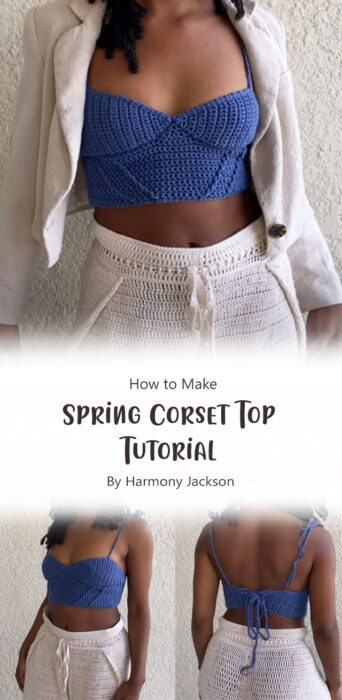 The Spring Corset Top Tutorial by Harmony Jackson is a step-by-step guide that teaches you how to create a beautiful corset top perfect for the spring season. This video tutorial is a helpful visual aid that walks you through each step of the process, making it easier to follow along and create your own corset top.
2. Crochet Corset Top Tutorial By The Crochet Diaries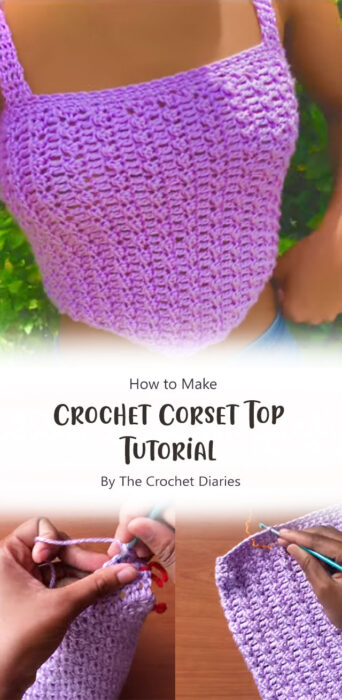 The Crochet Corset Top Tutorial by The Crochet Diaries is a great resource for anyone interested in creating a crocheted corset top. With its detailed instructions and helpful video tutorial, it's a great way to learn crochet skills and create a beautiful piece of clothing that's perfect for warmer weather.
3. Crochet Corset Top Tutorials By Chenda DIY
If you're looking for a unique and stylish piece of clothing that's perfect for any occasion, a crochet corset top might be just what you need. With the help of Chenda DIY's crochet corset top tutorials, you can create your own beautiful and personalized corset top. So le'ts try make it!
4. Crochet Corset Bralette Tutorial By Chenda DIY
Introducing the Crochet Corset Bralette Tutorial by Chenda DIY the ultimate guide to creating a stunning and comfortable bralette that is perfect for any occasion. This tutorial is a must-have for anyone who loves to crochet and wants to add a touch of elegance and style to their wardrobe. The tutorial includes step by step and easy to follow instruction. So why not give it a try and see how you can rock this stylish and pretty look?