4 Collar Top Free Crochet Pattern & Tutorial Ideas – Collar tops are a timeless fusion of classic sophistication and contemporary style. They seamlessly combine the comfort of a top with the statement-making power of a beautifully crafted collar. This patterns and tutorials are designed to inspire, guide, and elevate your crochet skills. Embrace the joy of creating, experiment with textures, colors, and styles, and watch as your collar top masterpiece comes to life.
1. Crochet Ribbed Collar Top Tutorial By Chenda DIY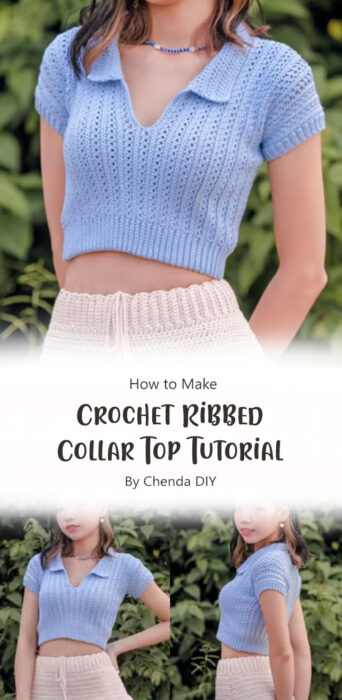 Embark on your crochet journey with confidence, guided by Chenda DIY's expertise. Creating a crochet ribbed collar top is not only a creative endeavor but also a rewarding one. Show off your handcrafted masterpiece with pride!
2. Easy Crochet Crop Polo Shirt Free Pattern By jennyandteddy. com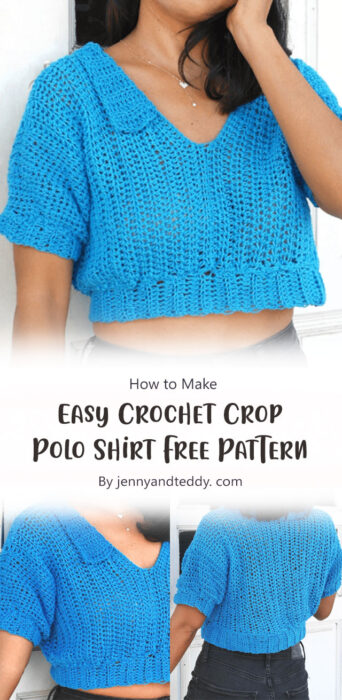 Easy Crochet Crop Polo Shirt. Designed by the talented artisans at jennyandteddy.com, this free pattern is a perfect blend of fashion and DIY. So, grab your yarn, dust off your crochet hooks, and let's embark on this fun and rewarding journey together!
3. V-Neck Crochet Tee By TEECROCHET BY BEV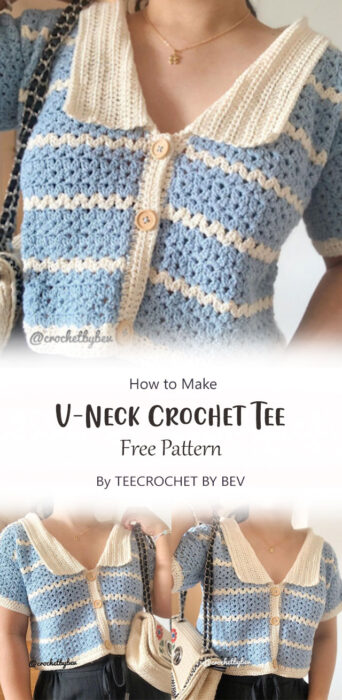 Whether you're an avid crochet connoisseur or a curious beginner, take a leap into the world of crochet artistry with TeeCrochet by Bev. Unleash your creativity, master the art of crochet, and let your unique style shine through the stitches. Get ready to turn heads, make a statement, and create lasting memories with your very own handcrafted V-Neck Crochet Tee. Happy crocheting!
4. Crochet V-Neck Top By TEECROCHET BY BEV
Delve into the world of crochet fashion with the Crochet V-Neck Top By TEECROCHET BY BEV. This amazing tutorial guides you through the creation process while offering the freedom to choose your favorite color. Elevate your style and embrace the artistry of crochet with this exquisite piece.