DIY Macrame Car Diffuser: Free Tutorial Ideas – The daily commute can be stressful, but what if your car ride could transform into a moment of relaxation? Enter the macrame car diffuser – a stylish accessory with aromatherapy benefits, making your drive a soothing experience. There's something immensely satisfying about creating something with your own hands, especially when it enhances your daily life. Even if you're new to macrame, fear not. These step-by-step tutorial will guide you through the process!
1. DIY Macrame Car Charm Tutorial – Car Diffuser By Macrame Princess
The DIY Macrame Car Charm Tutorial, brought to you by Macrame Princess. In this step-by-step guide, they will teach you how to create a unique and stylish car diffuser macrame. Let's embark on this creative journey and transform your daily commute into a delightful experience.
2. Easy Steps to Make Macrame Ornament – Car Diffuser By Meons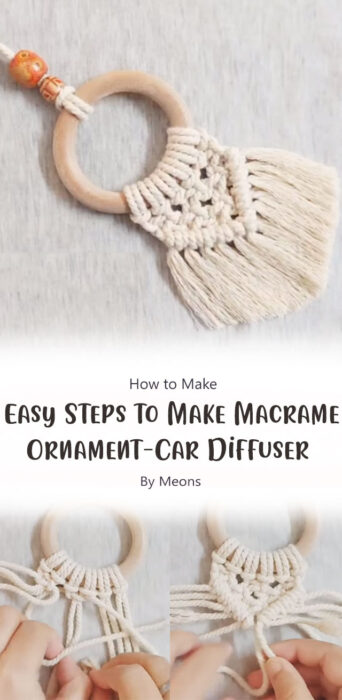 This unique accessory not only adds a touch of style to your vehicle but also fills the air with a delightful fragrance of your choice. With Meons easy-to-follow steps will not only guide you through the process but ensure that your Macrame Car Diffuser stands out as a unique masterpiece.
3. Easy DIY Macramé Daisy (Beginner Friendly) Charm/Diffuse By The Lark's Head
Crafting DIY Macramé Daisy with the Lark's Head knot opens doors to endless possibilities. Embrace the therapeutic benefits, relish the joy of personalization, and let your creativity bloom. So, what are you waiting for? Dive into the world of macramé, let your imagination run wild, and experience the satisfaction of creating something extraordinary with your own hands.