Best and Cozy Baby Romper Free Crochet Ideas – Here is a free crochet pattern for the best and cozy baby romper that you ever have! Perfect to wear over any season outfit. Here you will get the pattern with step-by-step instruction, to show you how to make it. Let's start it!
1. Crochet Baby Romper Calming Green – Free Pattern By Doroteja of Croby Patterns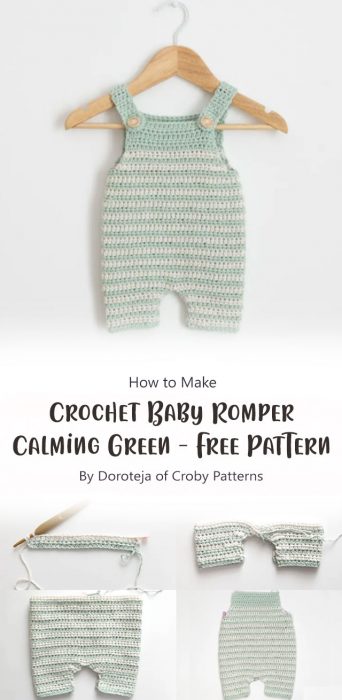 It's time to celebrate with a cute crochet baby romper. It's the easiest little gift and it doesn't matter if the Baby is born in Winter or Spring. The Baby romper will make them look so fashionable no matter what season. Happy Baby Shower!
2. Lemon Peel Crochet Baby Romper By Marie of Adore Crea
Adorable, flirty and functional, the Lemon Peel Crochet Baby Romper is the ideal outfit for any occasion. Moms love this design because of the simple construction, while doting dads love it because their little one will be comfortable and look adorable in it.
3. Crochet Rainbow Romper – Pattern & Tutorial By Marta Porcel
Are you looking for a useful baby shower gift that will be loved by both the baby and its parents? Or maybe you are pregnant or awaiting the arrival of your baby and need a comfy new outfit? If so, then this pattern is just what you are looking for! This is a very detailed pattern with many pictures.
4. How To Crochet Baby Romper By Croby Patterns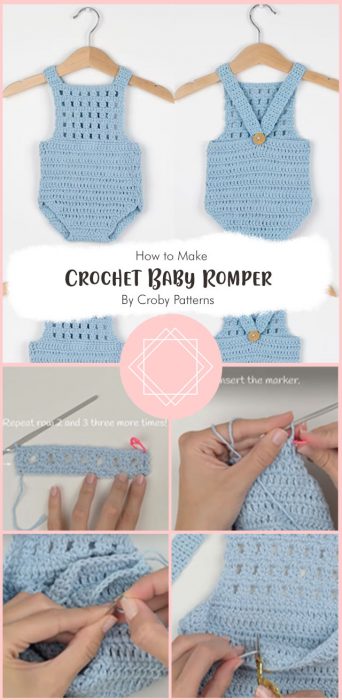 Easy, step-by-step guide for crocheting the baby romper by Croby Patterns. Crochet a gift for your sister, friend or even yourself and save money instead of buying baby clothes from the store.
5. Crochet Baby Romper By Sarah of Repeat Crafter Me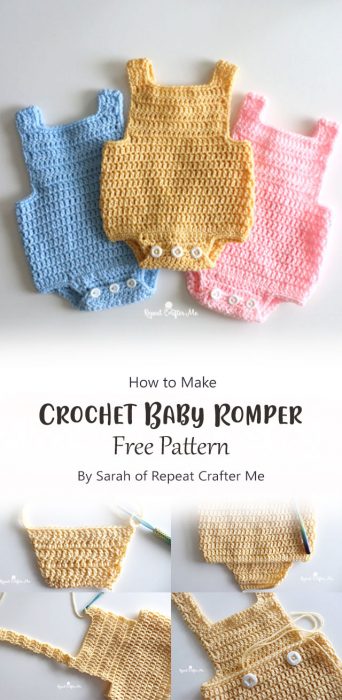 This easy to make baby romper is great for the new arrival. This pattern is an easy to follow. Perfect accessory for an afternoon of family fun or a trip to the playground.
6. Beachside Baby Romper Free Crochet Pattern By Lindsey of Winding Road Crochet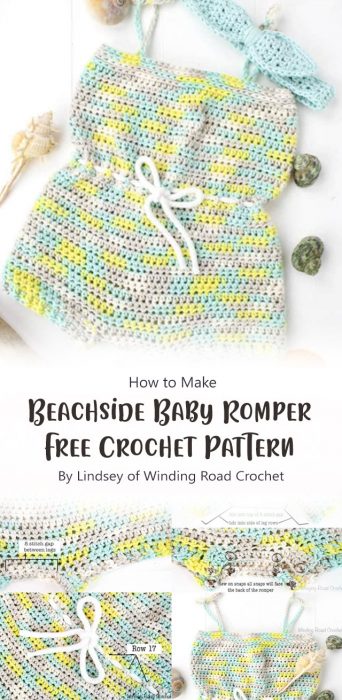 This baby romper crochet pattern will be a tremendous joy for crocheters. The baby romper is wonderful for pictures and special occasions. Perfect for your little ones, these lovely crochet are sure to keep them looking fashionable in any situation!