5 Amigurumi Squid Game Free Pattern Ideas – If you're a fan of the hit Korean series "Squid Game" and have a passion for amigurumi crafting, creating your own Squid Game-inspired amigurumi characters can be a fun and creative project. In this article, we'll explore some free pattern ideas to bring the suspenseful world of "Squid Game" to life in a cute and cuddly way.
1. Squid Game Amigurumi – Free Crochet Pattern By Sharon of Ami Amour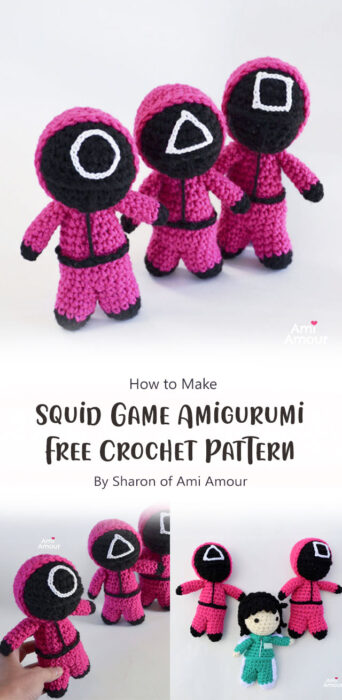 In this exciting crochet adventure, we'll diving into the world of Squid Game amigurumi with a fantastic free crochet pattern by the talented Sharon of Ami Amour. Get ready to create your very own adorable and deadly characters from the hit show, all with yarn and a hook. Let's start crafting!
2. Squid Game Crochet Doll By 이요코바늘 E-yo crochet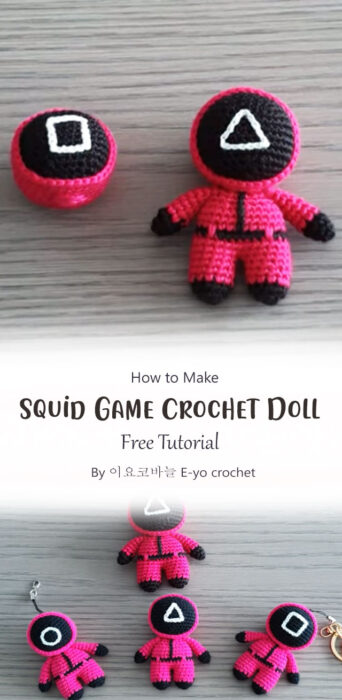 Squid Game has taken the world by storm, and fans of the series are eager to bring a piece of its intriguing universe into their homes. Crafting a Squid Game Crochet Doll is not only a delightful and creative project but also a fantastic way to pay homage to the show's memorable characters.
Part 1
Part 2
3. Squid Game Soldier Crochet Pattern By Vincent of knotbadami. com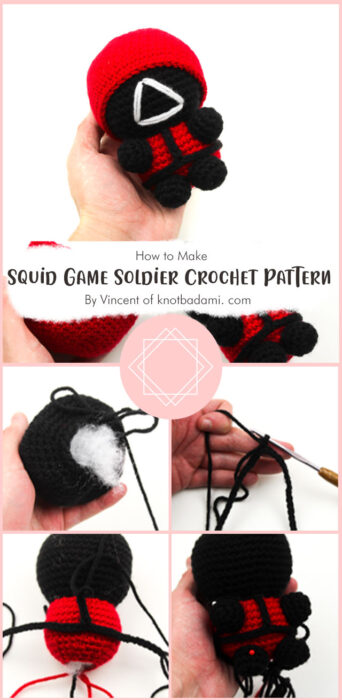 In the spirit of creativity and fandom, we're excited to introduce you to the Squid Game Soldier Crochet Pattern, generously provided by Vincent of knotbadami.com. With this free pattern, you can create your very own Squid Game Soldier amigurumi, adding a touch of the intriguing and intense world of the show to your crochet collection. So, gather your crochet supplies and let's get started on this thrilling project!
4. Squid Game Soldiers Amigurumi By Thea of crochethea. com
A Squid Game Soldiers Amigurumi pattern by Thea of crochethea.com would likely include instructions for creating amigurumi representations of the soldiers or guards featured in the popular Korean television series "Squid Game." These characters wear distinctive red jumpsuits with masks and play a significant role in the series. To create your own Squid Game Soldiers amigurumi, you can check if Thea's pattern is available on crochethea. com by click link bellow here:
5. Crochet Squid Game Pink Soldiers By Ohana Craft Amigurumi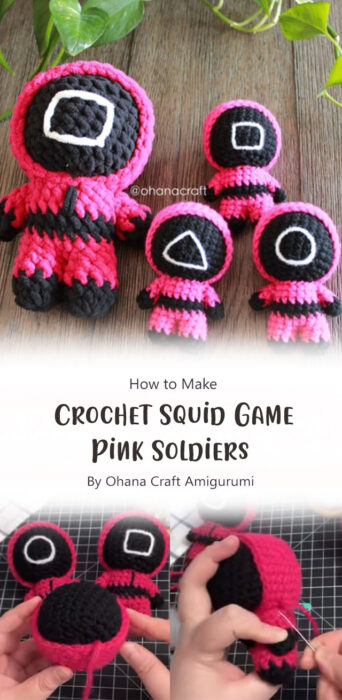 In the wake of the global sensation that is "Squid Game," fans of the show have found a new way to bring the iconic Pink Soldiers to life – through the enchanting art of crochet. Ohana Craft Amigurumi, a skilled crochet artist, has taken on the challenge of recreating these unforgettable characters in yarn form, adding a delightful twist to the "Squid Game" craze.