Cozy Textured Boot Cuffs Crochet Ideas – A pair of Cozy Textured Boot Cuffs is a must-have accessory this winter season. This free crochet pattern features a textured design that makes it easy to wear with your favorite boots or even with shoes. These boot cuffs fit most women's shoe sizes and you can make a pair in just one afternoon.
1. Chic Aran Boot Cuffs Crochet By Kinga
These Aran boot cuffs are a quick and easy way to add warmth and style to your legs, feet, and ankles. They make fantastic gifts for family members or friends who love high quality Aran knitting patterns! You can even get creative and crochet a set of these boot cuffs in different colors to match every outfit!
2. Basketweave Boot Covers Crochet By MyntKat
Basketweave Boot Covers Crochet by MyntKat is an easy-to-make basketweave slip cover pattern to help you protect your shoes from moisture and dirt. You could also use this pattern to crochet a whole new pair of boots.
3. Easy Reversible Crochet Boot Cuffs By Jamey
Knit your own pair of cozy winter boots with this free pattern from Jamey. Crochet boot cuffs are one of the hottest trends right now. They are perfect for fashionably warm feet!
4. Love Me Tender Boot Cuffs Crochet By Dorianna Rivelli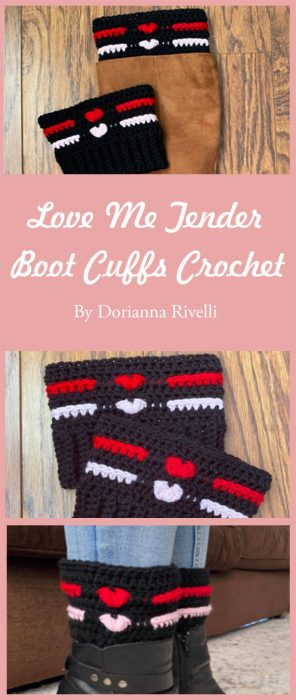 The Love Me Tender boot cuffs are a perfect addition to your winter wardrobe. These boot cuffs are a step-saving way to keep your feet warm and fashionable. Designed by Dorianna Rivelli.