4 Best Sunflower Coaster Free Crochet Ideas – This is a very simple and easy project to make if you know how to crochet, and a great way to decorate a coffee table or a little child's room. It is sometimes better to take a few minutes for yourself rather than burden yourself with another task.
1. Sunflower Candle Coaster By Darling Dana Designs
Coasters make for great gifts and collectibles. This beautiful Sunflower Candle Coaster makes a nice gift. Every time use it, you will be reminded of this gift.
2. Sunflower Coaster Free Crochet Pattern By Nana's Crafty Home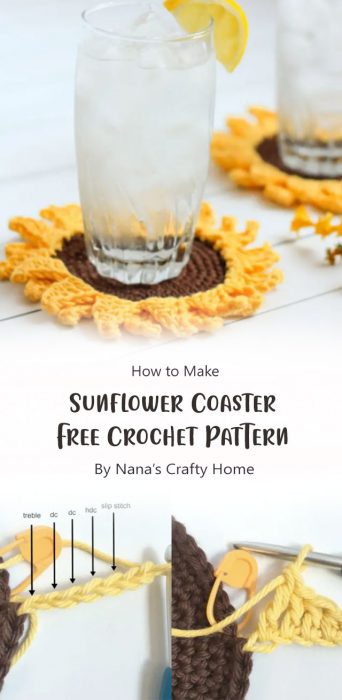 Nana's Crafty Home is proud to present this Sunflower Coaster Free Crochet Pattern. Use this free crochet pattern to create beautiful coasters that are the perfect addition to your patio, deck, or kitchen tabletop. The easy to follow instructions are sure to delight even the most beginner-friendly crocheters among us.
3. Sunflower Coaster By Fay Lyth
Sunflower Coaster is a hand crocheted coaster. This coaster protects your table from candle, hot cups, glasses and bottles. It is durable, non-slip and pleasant to touch. Perfect for any house hold to protect expensive table tops by preventing heat transfer, the coaster has an invisible anti-stain treatment.
4. Fun Summer Sunflower Coasters (Free crochet pattern) By Ling Ryan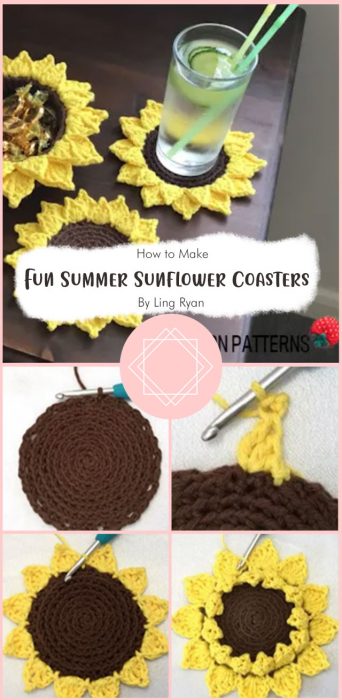 Use Sunflower Coasters for your summer drinks or use them to decorate your home. Whichever way you choose, they are easy to make and very fun to crochet!