Slipper Socks Free Crochet Pattern Ideas (Part 2): Cozy Your Feet in Style – Welcome back to the world of cozy crafting! In "Slipper Socks Free Crochet Pattern Ideas (Part 2)," we're diving headfirst into a world of comfort, warmth, and style. Whether you're an experienced crocheter or just picking up your first hook, this guide is packed with ideas to keep your toes toasty and your feet fashionable. Let's unravel the yarn and explore the wonderful realm of crochet slipper socks!
1. Bulky Crochet Sock – Easy Free Pattern For Cushy Slippers By Briana of brianakdesigns. com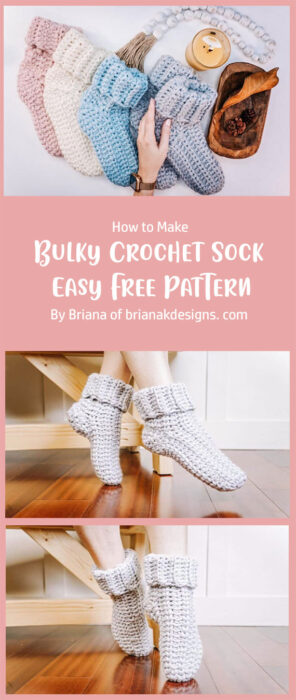 The Bulky Crochet Sock pattern by Briana of brianakdesigns.com is a fantastic way to add comfort and warmth to your life. Crafting your own cushy slippers is a fulfilling and enjoyable experience, and with this pattern, you can achieve it effortlessly. Get the free pattern bellow here:
2. Bulky Crochet Socks: Free Crochet Pattern By Nea Creates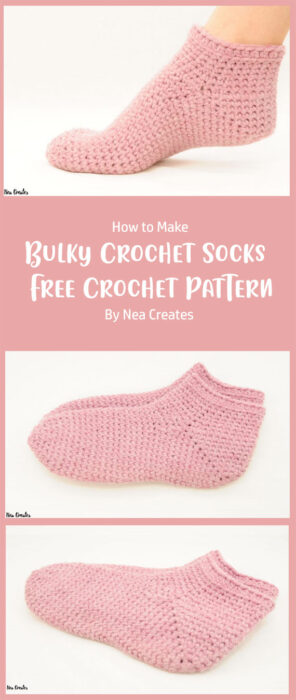 Bulky crochet socks are the perfect blend of comfort, warmth, and style. Handmade crochet socks are more than just clothing, they are a statement of your personality and style. Nea Creates' free pattern allows you to create these one-of-a-kind fashion statements, and you'll be surprised by the ease and joy they bring.
3. Caron Chunky Cakes Slouchy Slipper Socks By Sarah of repeat after me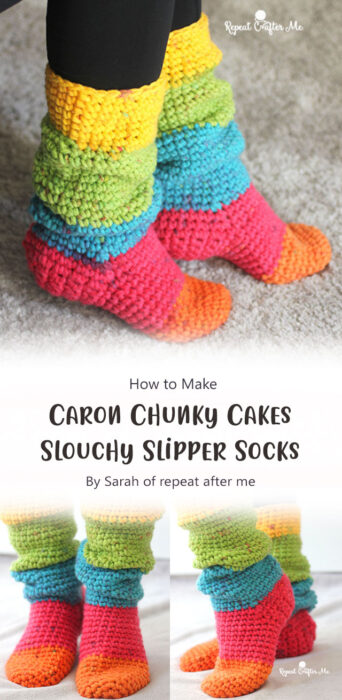 Sarah of Repeat After Me has got you covered with her free pattern for Caron Chunky Cakes Slouchy Slipper Socks. These slipper socks are more than just a fashion statement – they're a comfort revolution. Whether you choose a warm, earthy palette or a playful, vibrant one, Caron Chunky Cakes lets you infuse your personality into your handcrafted socks. So, grab your yarn, your knitting needles, and let your creativity flow. Whether you're knitting for yourself or as a gift, these socks are sure to be a hit.
4. Cozy Velvet Crochet Socks – Free Pattern and Photo Tutorial By Nihal of Topknotch Crochet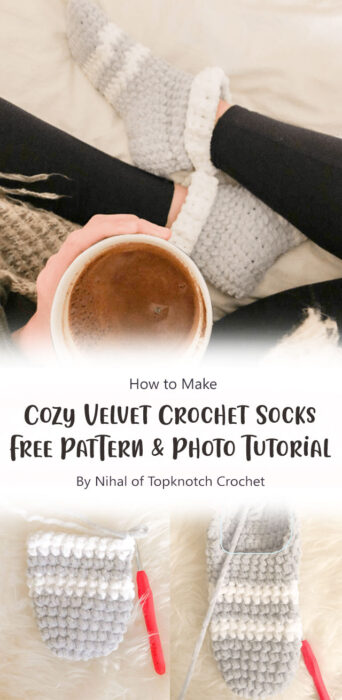 Velvet crochet socks are a wonderful addition to your wardrobe. They offer unparalleled comfort and warmth, all while allowing you to showcase your creativity and style. With this step-by-step guide and some practice, you can create your own pair of cozy velvet crochet socks. So, embark on your crochet journey and enjoy the luxurious feeling of handmade socks on your feet. Happy knitting!