Pumpkin Dishcloths Free Crochet Pattern Ideas: Crafting Functional and Festive Kitchen Accessories – When it comes to adding a touch of warmth and festivity to your kitchen, pumpkin dishcloths are a fantastic choice. Not only are they functional for everyday use, but they also bring a festive charm to your kitchen décor. In this article, we will explore the world of pumpkin dishcloths and provide you with some creative and free crochet pattern ideas to make your own.
1. 3D Pumpkin Dishcloth – Free Crochet Pattern By Kris Moore
Kris Moore's free crochet pattern for a 3D Pumpkin Dishcloth allows you to create a charming and functional accessory for your kitchen. With Kris Moore's guidance, you'll craft a delightful dishcloth that adds a touch of handmade charm to your home and embraces the spirit of the season.
2. Easy Crochet Pumpkin Dishcloth By Janice Jones
The crochet Pumpkin Dishcloth by Janice Jones has become a delightful project for crocheters of all skill levels. In this free pattern, we'll take a closer look at this charming pattern, Janice Jones will guide with step-by-step instruction on how to craft your very own pumpkin-inspired dishcloth.
3. Lily Sugar'n Cream Jack'O Latern Dishcloth By Yarnspirations
Halloween is just around the corner, and what better way to celebrate this spooky season than by adding a touch of enchantment to your kitchen decor? Whether you're hosting a ghoulish gathering or simply want to infuse your daily chores with a dose of Halloween magic, the Lily Sugar'n Cream Jack'O Lantern Dishcloth by Yarnspirations is the perfect crafting project to indulge in.
4. Scary Jack-O-Lantern Dishcloth – Free Crochet Pattern By jadedcraftsandcreations. com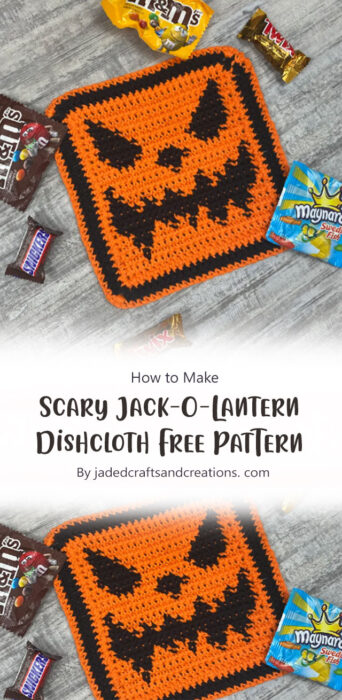 When we think of Halloween, one image immediately comes to mind: the Jack-O-Lantern. A Scary Jack-O-Lantern Dishcloth is delightful addition to your Halloween decor. Handmade decorations not only infuse your home with warmth and character but also offer a sense of accomplishment as you witness your creations come to life. So, gather your materials, follow the steps, and prepare to impress your guests with a spooky, handcrafted masterpiece!